CAUDog Records
CAUDog Records (pronounced "Cow-Dog") is a sister company to Chicago Acoustic Underground, the international podcast series which has been running for six years at www.chicagoacoustic.net. The podcast features hundreds of solo artists and full bands, and is downloaded in over forty countries. Noticing the large pool of original talent  in Chicago, founder Michael Teach decided to launch CAUDog Records. The mission of CAUDog Records is to help independent artists achieve their music goals. CAUDog represents bands and artists in genres including (but not limited to): Pop, Americana, Folk, Indie Rock, Singer-Songwriter and more.
CAUDog Records has produced nearly a dozen albums in just two years as a record label. Learn more about us at www.facebook.com/CAUDogRecords and Twitter @CAUDogRecords.
Staff of CAUDog Records and Chicago Acoustic Underground International Podcast Series
Ellis Clark, Producer and Engineer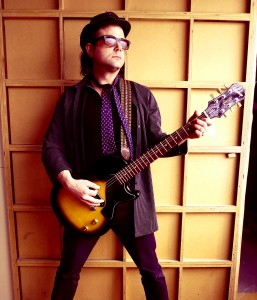 CAUDog Records' secret weapon: omnimusician, multi-instrumental wonder, enigmatic ears behind the board, and concept master for arrangements, Producer/Engineer Ellis Clark.
Clark has been a longtime fixture of the Chicago music community working as a performing musician, singer-songwriter, recording artist and record producer. He was the founding member and front man for the band Epicycle and later Social act which in combination have released numerous albums of original material.
Clark's many producer/engineering credits include records by Kim Thayil (Soundgarden), The Chamber Strings, Kevin Tihista & Red Terror, Nikki Sudden (with Jeff Tweedy) and more recently Brian Walker's "Into The Light" featuring guest vocal performances by American Idol star Crystal Bowersox.
Recognized for his astute songwriting skils, Clark was signed to Paramount Picture's music publishing division Famous Music and is proud to be part of Chicago Acoustic Underground, with a shared dedication to the development of new artists. He founded Cirkle Records & Idiot Savant Records and is currently Producer for all albums released on the CAUDog Records label.
In addition to making solo performances with his band, Ellis is the lead guitarist for The Handcuffs who have enjoyed national success with their music placed on the hit TV shows Gossip Girl, The Hills and Jersey Shore. As a mutli-instrumentalist he makes occasional live guest appearances with some of the acts he has produced including Goodbye Home, Jane Thatcher and Phil Angotti. In his career, he has shared the bill with Nine Inch Nails, The Smashing Pumpkins, UB40, The Neville Brothers, Glenn Tilbrook (Squeeze) and Dave Davies (The Kinks) to name a few.
Michael Teach, Executive Producer, Host/Founder
Michael Teach, along with Michael Narvaez and Jacob Covington, started CAU to give original musicians in Chicago (and the world) the credit and respect they deserve. When the Chicago Acoustic Underground record button is "on air" you will be delighted with the variety, originality, spontaneous fun and genuine love of music that makes it into every second. Michael's upbeat attitude and no-nonsense generosity make him a "Patron Saint" of the Chicago Music Scene. Well, that is, if saints enjoy lots and lots of great music.
Michael's conversations with podcast artists are meant to delight and entertain you as he shares his experiences from a world-class reputation in audio and events. His music industry live event production experience includes working with venues ranging from eighty to 8,000 seats, with artists that helped forge original music such as Harry Chapin and Richie Havens.
Lucky for Chicago Acoustic Underground fans and artists, he has made it his life's work to bring original artists into the forefront. A facilitator of artists and acutely aware of trends in technology, he has something to "teach" us all. Michael has been "instrumental" in selecting CAUDog Recording Artists, locally and internationally. With acts ranging from Chicago's Brian Walker to CLEEMANN from Copenhagen, Denmark, Teach is bringing professionally arranged and engineered music from artists to fans.
A musician himself, Michael is a collector of vintage guitars and instruments. As a promoter, he has led CAU-sponsored fundraisers and events, touching lives with donations to numerous organizations. Independent artists enjoy working with Michael, as the growing organization offers more ways for original musicians to nurture their craft and use technology to present it to the world.
CAUDog Records has grown from that love of original music that started with the CAU Podcast and takes it to the next level. CAUDog Records is currently working on or has released over a dozen records in the two years it has existed– no small feat for a Chicago label of any size. Congratulations CAUDog!
Michael Narvaez, Founder/Engineer, AV and Special Media
Michael ("Vez") Narvaez, a friend of Michael Teach for over 20 years, was essential to the roots of the CAU venture and shares in the passion to bring the talent of Chicago's original music scene finally into the spotlight that it deserves. "It's great to see the many talents and efforts and the expertise of the "CAU-family" and the Chicago music community combining forces in an attempt to make Chicago a vital component in the reformation of the music vista."
"Why shouldn't Chicago, one of the largest cities in the U.S., be a thriving mega music hub, a haven for untapped musical talent, rather than having musicians flee to the over-saturated music scenes in Los Angeles, New York or Nashville where they might only have a slim chance of getting noticed?"
A talented musician himself, "Vez" does not agree with the "pay to play" philosophy. "Musicians gain an education, they rehearse, they create and they perform while constantly evolving and tweaking their craft along the way. They attempt to find audiences and outlets to spread their vision in hopes that someone will appreciate their talents enough to sponsor them and help secure a career doing what they truly love to do. I have always believed that this was what they referred to as "paying your dues". Somewhere down the line, though, I think things got a little off track."
"Vez" has been involved in many aspects of the music scene both "creatively", on the stage as a performer, and "technically", behind-the-scenes as an audio engineer. As a sound engineer, he has recorded for both live performances and for the mixing and mastering of performing artist's record albums, as well as, the CAU podcast shows, which he occasionally co-hosts. He is actively involved with many clubs, corporate and festival events, showcases and recording studios, large and small, throughout the Chicago-land area. He is an experienced video camera operator and photographer with a keen, creative eye.
Making himself available as a bass player for hire, "Vez" has recorded and/or performed with many local and national acts through the years as well as performing in his own band projects.
www.junction325.com
www.scrapsofbrass.com
Jacob Covington, Co-Founder, CAU
Barrett Tasky, Engineer, Artist and Tour Development
Barrett has tackled every audio and music context known to man. Some highlights include running FOH at Chicago's Park West, SPACE, Hard Rock, as well as working through the ranks of JAM Productions in a variety of roles where he learned the music business inside out- literally.
As head of CAU's online development and a proponent of revenue for musicians, Tasky is helping lead CAU into new technical territory as CAU grows its online presence and brings music to fans in new ways.
As an engineer, Tasky mixes podcasts and brings the music to listeners. As a multi-instrumentalist on most anything with strings, he has lent his skills as a guitarist, bassist, mandolinist and keyboardist to bands ranging from the folk roots troupe the Mudflapps to funk-jam band MWC. In addition, he teaches privately and at Paul Green School of Rock and offers professional audio recording services to independent musicians, studios, and stages.
Jeff Brown, Esq., Legal Counsel, Sales
Singer/songwriter/multi-instrumentalist Jeff Brown heads up the CAU Legal Department and CAU Publishing branch. Brown is a licensed Illinois attorney with experience in trademark, copyright, contract drafting & review, and licensing, and face-melting guitar solos. A founding member of Goodbyehome, Brown has studio experience with vocals and multiple instruments including guitar, accordion, banjo, and mandolin. He offers over 20 years of musical experience, ranging from crushing thrash metal to delicate acoustic to trip-hop, rockabilly, jazz, and blues. He has a fondness for songs in 3/4 in Cm. Appearing in the periphery of more CAU podcasts than he can remember, he dreams of a world where accordion players are recognized as the smoldering sex symbols that they deserve to be.
In addition, Jeff has released his debut album "Last Chance" (Love songs for people who are sick of love songs) on CAUDog Records.
www.facebook.com/jeffbrownmusic
www.goodbyehomemusic.com
Hannah Frank, Publicist, Talent Buyer
Hannah is the booking contact for many CAU showcases including the CAU "Singing For Your Supper" Showcase at Act One Pub in Rogers Park as well as CAUDog Records 2+1 Showcases at the Heartland Cafe. Hannah establishes local and regional contacts, writes CAU press releases, manages CAU web content and social media, designs posters and newsletters to keep CAUDog Fans in the loop. Additional music industry experience includes sound engineering with Heartland Cafe, SimpleAV, Vic's Drum Shop and other Chicago clubs. She has also worked as stagehand at Congress Theater, UIC Pavillion, Northwestern University, Aragon Ballroom, Wavefront Electronic Music Fest and many other venues. As a singer-songwriter, she performs with her group, Hannah Frank Group. As a writer, she  her work has appeared in The Complete Idiot's Guide to Kaballah (yes, really), Chicago6Corners.com, Corporate News Briefs, and her music blog, OnAxis Music. In addition, she also runs an online calendar for Chicago Music Clinics and Educational Events. She holds a BFA from The School of the Art Institute of Chicago.
www.hannahfrank.net
www.facebook.com/hannahfrankmusic
www.reverbnation.com/hannahfrankmusic
Buffy, CAU Mascot