Artist Website:
www.thefuturelaureates.com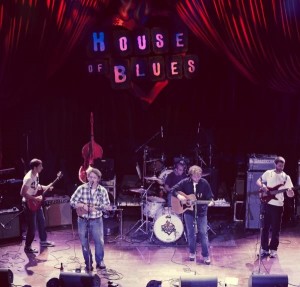 With a successful presence at SXSW 2012, plus airplay on 140 college and community radio stations, The Future Laureates are celebrating with unabashed energy and triumph. Offering positive punk-rock energy with folk/pop musicianship, their sonic champagne is frothing and bubbling with the release of their third album, "Fortress Sessions".  It is seriously full of fun.
They've established connections with fans over shared interests. The bleakness of current events or dynamics of interpersonal relationships faced by college-age crowds (most of them singing along) can't be downtrodden as the pure sunshine of radio-ready pop comes through in every millisecond.  Soaring harmonies glide through serious matters of the head and heart, along with major jamming by guitar, bass, drums- and ukulele.
2011's "Rethink the Recession" led to reviews of "Kingston Blues," the EP's single, as "a fresh and fun melody led by a lively rhythm, brisk percussion, and warm, spirited vocals." (Chicagoist.com) and "…it's not just a gimmicky thing; he jams the livin' crap outta that uke!" (DailyLimerick.net). The same year, the album won licensing deals with a variety of shows on MTV, Showtime, and Discovery Networks via Tinderbox music.
Touring has brought together even more fans through numerous Midwest and East Coast journeys as well as hometown venues including Chicago's House of Blues, DC's Rock and Roll Hotel, and the Congress Theater for the 3rd and 4th annual Chicago Bluegrass and Blues Festivals. They've shared crowds with Edward Sharpe & The Magnetic Zeroes, Drive-By Truckers, Grace Potter and the Nocturnals, Hellogoodbye, Cory Chisel and the Wandering Sons, JC Brooks and the Uptown Sound, and Dawes.
Through it all, they keep it smart, fun and rhythmic.
In 2012, The Future Laureates have added "the fifth Beatle" with Chicago's CAUDog Records. Working with accomplished producer Ellis Clark (Nikki Sudden with Jeff Tweedy of Wilco, Kim Thayil of Soundgarden), the recent album is their strongest effort to date. "We've treated it as a separate entity and process than our live shows, with additional organ, piano, horns, percussion, and most notably, violin," says Danny Surico, primary songwriter for The Future Laureates.
"Fortress Sessions" sees TFL's three founding members (Danny Surico  (guitar/vocals), James Hyde (bass/vocals) and Matthew Daigler (ukulele/vocals) polish 12 gems with an unprecedented level of honesty about the songwriting and arrangements.  Also contributing are special guests Ellis Clark on keys and organ, Mike Scheiman on guitar, Aaron Apter on drums and percussion, and Kristina Priceman on violin.  The album gained its unique title from the band's practice space and songwriting hub, a coach house fondly nicknamed "The Fortress" tucked away in Chicago's Lincoln Square neighborhood.
Following their SXSW appearances in Austin, TX this March, the band is gearing up for its Chicago album release show in May 2012.  This summer adds some hot festivals followed by an East Coast Fall Tour to promote the new album. Spontaneous, professional and passionate, TFL is dedicated to bringing their latest effort to radio and online distribution. Most importantly, they're bringing it to the fans that keep dancing and singing along.
Interview:
The current lineup is:
Danny Surico (guitar, vocals)
Matthew Daigler (vocals, ukulele)
James Hyde (bass, vocals)
Rob Durkee (drums)
Andrew Bockelman (lead guitar)
Joe Haggenjos recorded lead guitar on "Everything at Once." Joe left in May and Andrew just joined the band in August.
How was the journey and performances at SXSW 2013? How was it different from 2012? What were TFL personal highlights? What bands did you see there that you liked?
This year, our journey was a little more focused and we approached our travels with more savvy. For starters, we made the decision to drive straight down there vs. setting up a mini-tour in order to maximize our time in Austin for networking. And that proved to be a good decision. We met up with several managers, music business attorneys, and handed out and received hundreds of business cards and sample cd's throughout the week. This trip was a little more business-focused than last year. Last year, everything was brand new and felt out-of-this world exciting. This year, we were veterans, so to speak, so felt a little more like we knew the routine and belonged. We saw The Giving Tree Band, Royal Teeth, The Hollows, Talib Kweli, The Flaming Lips, plus a lot of close friends from Chicago who were down there. It was a blast. We're already gearing up for next year to go down again!
What are you listening to now?
Currently in the TFL mix of bands/songs we listen to on road trips are, in no particular order:
Walk The Moon, Robert Randolph and the Family Band, Mackelmore & Ryan Lewis, Daniel Ellsworth and the Great Lakes, Forest & the Evergreens, The Damn Tracks, The Beatles, Portugal. The Man, Passion Pit, and Frank Ocean.
What are the dates and places on the current tour? Why were these cities chosen? What is TFL background and history playing in these cities? What are some new venues or new opportunities created on the tour? What are you hoping to develop with the tour?
10/4–Eau Claire, WI w/ Beacon James
10/5–Menomonie, WI w/ Beacon James
10/25–Chicago (Double Door) w/ Vintage Blue, Milktooth, and Antony & the Tramps
11/8–Iowa City, IA
11/9–Nashville, TN w/ Milktooth
11/30–Dayton, OH w/ Shrug
These cities were chosen based on networking. Dayton and Chicago have become reliable cities for us to play for "hometown crowds" and get the word out about our new music; Iowa City is a return visit for us and a chance to get on Iowa Public Radio again; Nashville, Eau Claire, and Menomonie are new adventures for us and an opportunity to play with great bands we've become friends with in 2013. What we're really hoping to continue to do is network with people we've been talking to via email for the past 2 years. We also want to play a tight, high-energy, engaging live set. Selling cd's would be a nice bonus, too 🙂
How was the show at The Metro? Why did you choose that venue? how was the show itself, lights, sound, etc.? What other bands were on the bill? how did the show go and the promotions of the show? What was the overall result of the show?
There are a handful of shows we've played over the years that are sort of "milestones" and are very validating for us. Metro was one of those. Just a really pro venue with great staff and great sound and lights. Our friends, family, and fans rallied to support us and gave us that added boost to play a high-energy set. We chose that venue because we wanted to make a statement that with the right combination of local bands, we feel that we belong at a venue of that caliber. I think the staff had a certain expectation and we definitely exceeded that and made an impression. The overall result of the show was a certain feeling that, if we put our mind to it, we can perform at any venue in the country and feel like we belong.
Are you currently working on songs in the studio with CAUDog Records and producer Ellis Clark? What songs have you chosen? What is your artistic process when working with Ellis?
Right now, the songs are done. We recorded 3 this time around: Sleepwalking, The Afterlife, and Hanging (all 3 attached). Working with Ellis was like returning home. There's such a comfort level with him and his process and our communication is very easy both ways. Going into the studio, we took our time a little bit more since we were just focusing on 3 songs instead of 12 like with Fortress Sessions. The EP is going to be called "Everything at Once" and it's in part because of ours and Ellis's willingness to layer parts and just try to create a really lush, full sound. We've even expanded our live show lineup to create that same caucophony of sound live–our last several Chicago shows, we've performed with a full horn section, violin, and Ellis himself has even joined us on keys and synth. The response from people has been positive–people are noticing the fullness and attention to detail.
How are general promotions going? What are be highlights from the past 6 months or year? What are goals for the future?
Generally, shows are going well and we've maintained momentum from 2012 (repeats of Summerfest, SXSW, and Chicago street festivals). We've also hit the road more than in past years and connected with new fans in different parts of the country. Metro in March and House of Blues in August were definitely highlights for us, and we're looking forward to getting these 3 new songs out to our fans as well. For the future, we want to keep pushing ourselves to write better songs, record with better gear and techniques, and tour more cities. It's hard to keep momentum going on all cylinders, but we're not using that as an excuse to slow down the pace.
What types of shows have you performed at in the past year? Local? With new bands or with label bands or with friends' bands? How are local fans responding?
There's been such a range to the types of shows we've played. We've played plenty of college shows; small club dates across the country; street festivals and world-renowned festivals alike; and large club shows like Metro and House of Blues. Fans are responding well. We're in the position now where we feel like we're not intimidated by playing with more established national acts, like Saints of Valory at House of Blues. That's a good example. A majority of the crowd had never heard us before but we were still able to make an impression and connect with people. We really relish being an opening band because we feel like it's a fun challenge to engage with a new crowd of potential fans. That's our goal moving into 2014–to work smarter, not harder. Even if it means less shows, we want to put ourselves in a position to play for new fans and to play with national acts whenever possible–play GREAT shows whenever we can and continuing to connect with new fans at our regional shows.
how do you balance work/job with the work of doing music?
It's a challenge at times, but the big key is having 5 guys on board who want to do this. If the collective desire and belief in the music and our goals are still there, then touring, writing, recording, and continuing to push ourselves to reach new heights all become easier to accomplish. We also operate as a team and we're very organized, plus we've learned the business skills as we've gone along–booking, scheduling regular practice time, managing, networking, getting our music in front of publishers, for example . We're always planning 3-6 months in advance and scheduling shows and travel in such a way that we can still work and have time with family and friends. That balance is important.
is music reflecting your life story and events, or is music an imaginative exercise?
Both. It's reflective and it's creating an alternate reality, I think. Our number one goal has always been and continues to be to live as self-sufficient musicians. There are times when we question whether the journey we've taken and the work we've put in is almost like trying to find gold at the end of a rainbow–a nice theory, but in reality? Well, we're dreamers at heart, so who's to say there's no gold…
What musical styles are you working with?
Folk, rock, pop sensibilities, electric elements, and orchestral arrangments
With new material, how is it developing?
It's good. it keeps us motivated. I wouldn't consider us studio-rats who just love being in the studio. But I think there is a certain level of excitement we feel when we're creating and writing new material. It's the process and the end result of these songs that allows us to feel like we're continuing to grow as artists. I'd still say we're finding "our sound," and I think we look at that as a constantly evolving and breathing idea. That balance of honing in on what we do well, while keeping an openness to new ideas and sounds helps keep us on our toes.
How are you building your online presence?
Slowly but surely. The more we tour, the more we build up our online presence. But it's not easy, and admitedly it's an area where I think we have a lot of potential to grow.
What is the most satisfying part of TFL? What do you want to provide to fans?
The most satisfying part of this band is to observe the parallel process of our growth as live performers, networkers, and songwriters. When we look back at where we started and where we are at present, it's clear that we've accomplished a lot. However, when we look ahead, we can see we haven't peaked. And at the end of the day, we're still having fun. If it gets to the point where we feel like we're not enjoying ourselves or getting enough out of it to justify the time we're putting in, then I think we'll have to reassess and decide whether we want to continue to take a break. But for now, we're keeping our foot on the gas pedal, and I think ultimately it'll lead to better music for our fans. A lot of people have been with us since day one and witnessed our growth and evolution, so we want to show them that their belief in us is justified.