CAUDog Recording Artists
Our roster includes local and international pop, roots and more:
Carla Prather
Carla Prather, versatile soul/rock vocalist with roots in house music and branches in alternative rock and R&B, evolves with her debut solo full-length album Touched, on Chicago's CAUDog Records. Carla's compelling contributions as a vocalist with over twenty music acts including Poi Dog Pondering, Common and KRS1 plus over twenty house producers including Maurice Joshua and Terry Hunter, developed her love of being in the studio which made the creation of Touched a tour de force in strength and beauty. SEE MORE
CLEEMANN (Denmark/USA)
CLEEMANN is a Copenhagen / Chicago based one-man-project centered around singer, multi-instrumentalist and musical director Gunnar Cleemann – a Danish folk experimentalist prodigy of immense and uncontested talent.
With a great emphasis on harmonies, lush orchestration, and arrangements, Cleemanns songcraft reflect a low-voiced side of the D.I.Y. spirit. Revealing vulnerability and spirit, his voice is entirely his own – clear, deep and vast as an ocean – a most remarkable instrument exuding its own ambient brilliance.
Live Cleemann performs solo-acoustic or in a band set up according to the nature of the venue. In live shows, he adapts musicians and delivery depending on the situation in order to be true to the moment. The audience picks up on the excitement that this is a one-of-a-kind performance that can't be recreated. Rich in emotion from all ends of the spectrum, his live shows and music look to be vital, appealing and never the same twice. SEE MORE
Donna Frost (Nashville / Chicago)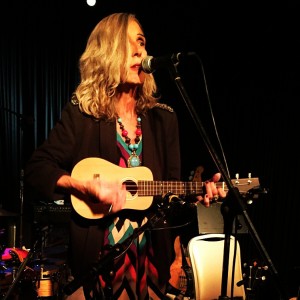 "Even when Donna Frost picks up her acoustic guitar, the point of view is that of a brass-in-pocket rock chick. Even when her country influences show, there's a rocker's grit and guts in her words and attitude. As the singer of the Bunnies, one of Nashville's first punk-rock bands, she burned a path for others to follow. "Girls Like Us," her new CD, proves she's still blazing a trail all her own" Michael McCall, Nashville Scene.
"Like a chameleon, her smooth vocals transition from track to track. She reminds one of an early nineties Mary Chapin-Carpenter, mixed in with some Heidi Newfield, and a little soul a la Janis Ian from Seventeen. But she never falls into the trap of letting the music overtake the musician…This is one artist that I believe will be able to stay true to her indie roots no matter how mainstream her work becomes" …Jenny Delamotte, Music News Nashville. SEE MORE
Ellis Clark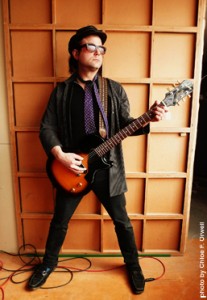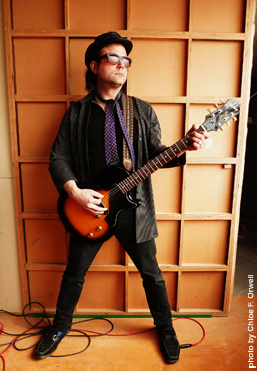 Ellis Clark has been a longtime fixture of the Chicago music community working as a performing musician, singer-songwriter, recording artist and record producer. He was a founding member and front man for the band Epicycle and later Social Act which in combination have released numerous albums of original material.
Clark recently released his debut solo album "LP NUMBER ONE" on the CAUDog Record Label as a red vinyl LP. It's also out on CD (and even 8-TRACK TAPE). Clark's wide range of producer/engineering/session player credits include working on records with Kim Thayil (Soundgarden), American Idol Star Crystal Bowersox, 90's indie pop favorite The Chamber Strings, co-producer of all Kevin Tihista & Red Terror's albums released on Atlantic Records and Broken Horse, John Ashton from The Psychedelic Furs, The Handcuffs (who's songs have been featured on many nationally syndicated TV shows aired on MTV, PBS, A&E, VH1, NBC and ABC), and produced the late Nikki Sudden's "Red Brocade" album (with Jeff Tweedy of Wilco). SEE MORE
Greg Jackson Combs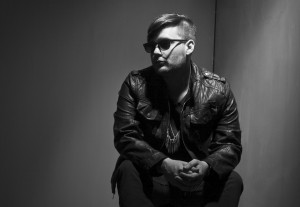 Every great story starts somewhere….Greg Jackson Combs has become an influential writer/performer in the ever prolific Chicago music scene since his first performances and tours began based out of the windy city in 2006. Combs is best known for his work with Chicago Folk Rock group: "Goodbyehome". The band has released two records with independent record label CAUDog Records, with much critical acclaim. His music has brought him across the country to perform in historic venues from  legendary Nashville club "The Basement" to the infamous "Hotel Cafe" in Los Angeles, as well as opening for such notable acts like Edward Sharp and the Magenetic Zeroes, Grace Potter, Dr. Dog and Bela Fleck and the Flecktones, all before he even hit the ripe age of thirty.
Combs represents an honesty and authenticity as a songwriter and performer that just does not exist in modern pop-music today. Drawing main influence from the 60's and 70's songwriting greats such as Dylan, Lightfoot, Chapin, Townes, Gilmore and Young. Performers of his caliber just don't exist today, making what he does, truly unique and remarkable. An overall message of hope and the power of positive thinking are a predominant subject of his music. SEE MORE
Jeff Brown, Jeff Brown & The New Black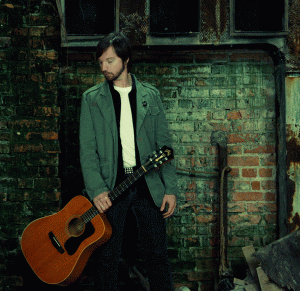 Jeff Brown of Chicago, the musician-turned-music industry lawyer-turned-musician who grew up with his ears glued to Iron Maiden records and can shred electric guitar with the best of them, has chosen to explore a softer side of life. Creating music rooted in the gentle musings of contemplative trailblazers like Carole King and James Taylor with modern touches similar to Damien Rice and Ryan Adams, the result is an album that sounds like the band is right in your living room. SEE MORE
The Lauren Wolf Band

Though "Rise Up" is The Lauren Wolf Band's second full-length album, it is their first full-band collaboration. Comprised of 10 originals and one cover, "Rise Up" is a departure from the band's first album, "All My Secrets". This time around, each band member has contributed to every track. While the debut album was primarily Lauren's story, "Rise Up" is a collection of what this band family has become.
It takes many bands years of performing in front of live audiences and rehearsing privately until they can figure out their sound and who they really are. "Rise Up" is the result. Marrying the powerhouse vocals of classic rock artists like Janis Joplin with the rock/blues guitar licks of Jimi Hendrix, the band pays homage to yesterday's greats while creating a new sound all to their own. SEE MORE
Liz Chidester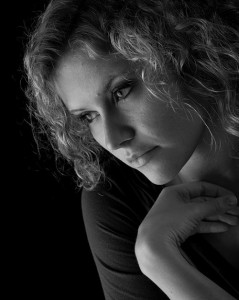 Liz Chidester, originally from the mountains of Virginia, moved to Chicago by train in the winter of 2013. Since then, she has become involved in the Chicago music scene, performing in various venues, variety showcases, and festivals across Chicago. Liz released her debut album "People Pumping Pedals" in 2014 under the Chicago Acoustic Underground's label CAU Dog Records. It is featured on Pandora and Spotify, and can be purchased on iTunes, CD Baby, Amazon, or Bandcamp. Liz was recently nominated for Best Female Vocalist in the Chicago Music Awards 2015 and was a Midwest Finalist in NPR's NewSong Songwriting Compeition 2014. Before moving to Chicago, Liz was entertaining audiences at sea all over the Western Hemisphere on Carnival Cruise Lines and Holland America Line as a variety band singer and host. Liz Chidester is classically trained singer, and a graduate of the School of Music at James Madison University in Harrisonburg, VA. SEE MORE
The Lost Brigade
The Lost Brigade, a hard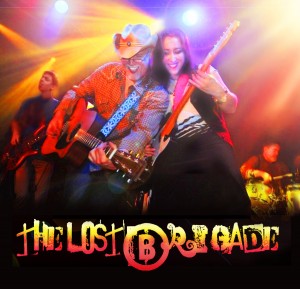 working Chicago band, has a sound that is an eclectic mix of the diverse talents of its members. Their energetic live shows are a sonic feast, which satiate the hunger for honest roots music mixed with fresh, fun creative rock. The band blends hopeful and upbeat rock with assorted influences including alternative, Americana, indie, folk, pop, Motown and classical.
This collection of experienced musicians includes Anita Chase – guitar and vocals, Kevin Lahvic – bass, vocals and guitar, Jeff Gilbert – drums and percussion, and Anand Christopher – violin, guitar, harmonica and vocals. They are occasionally joined by Eric Lewis-Baker – cello, banjo, trumpet, bass, accordion, mandolin, vocals and guitar. SEE MORE
Matthew Morgan, Matthew Morgan & the Family Band
Matthew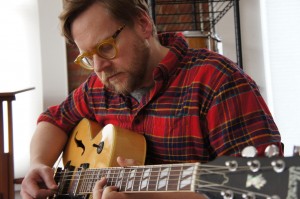 Morgan is a folk troubadour of the most anachronistic sort, who pulls from Nick Drake as much as Neil Young. His tenor voice floats above delicate arrangements, but its warm, soulful character gives the feeling of great depth. A storyteller whose songs feel less like stories than paintings. A multi-instrumentalist, he crafts his songs playing the guitar, piano, organ, harmonica, and a variety of other stringed instruments. SEE MORE
Nancy Connelly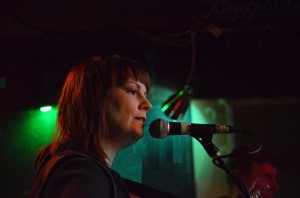 Nancy Connelly has the unique ability to tune into other people and the result are songs and ideas with a message. Songs "with a message" are the forte of this Chicago songwriter. Her music is at the service of our hearts and souls in her debut album Turning Tide.
With lilting guitar work and a gentle, breezy voice, her influences of classic American songwriters is worn securely on her sleeve. Similar to artists she admires, such as John Denver, John Prine and Joni Mitchell, her songs are not just about romantic love.
"Being patient and learning to laugh at yourself" are life lessons that helped Nancy (thankfully for the rest of us!) face and conquer the hurdle of stage fright which allowed her to perform and eventually complete a full-length album released on CAUDog Records, recorded by Engineer Bill Kavanaugh at BobDog Studios.  SEE MORE
Upcoming Artists:
Aethereal |  ESH
Artists Featured in Additional Releases:
Jane Thatcher | Junction 325 | KAVUS | Left Turn At Albuquerque | Valentine Xavier | Brian Walker