With  a sold-out CD Release show and a sucessful run at SXSW 2012,

enjoy catchy pop music delivered with punk-rock energy.

Synthesis of 60′s, 70′s classic rock and foot-stomping, head-turning fun.

Pop music from the genius of Copenhagen, Denmark. Nick Drake meets

Radiohead. As heard at Austin's SXSW 2011.

Brian Walker featuring Crystal Bowersox

Soulful folk with a rich worldview, featuring an American Idol star.

Atmospheric. electrified Americana that rocks featuring the song-

writing of Greg "Jackson" Combs.

Minimalist, acoustic metal.

That's right.

Chocolate-flavored vocals that encompass the struggles of love and

identity. Check out "Poundin' a Heartbeat"

His new album, "Last Chance", has been released!
New Releases…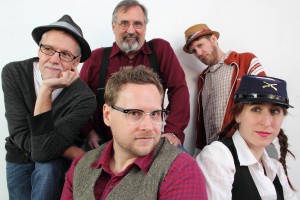 Matthew Morgan and the Lost Brigade – Bio
Matthew Morgan – vocals, acoustic guitar, harmonica
Anita Chase – vocals, electric guitar
Kevin Lahvic – vocals, bass guitar, acoustic guitar
Jeff Gilbert – drums, percussion
Dave Szpunar – banjo, accordion, 12 string, mountain dulcimer, mandolin, bass guitar
Anand Christopher – violin, acoustic guitar, glockenspiel
Matthew Morgan and the Lost Brigade is a hard-working Chicago band that has made its mark on the local
music scene and is now pushing farther into the Midwest. With the diversity of banjo and dulcimer alongside
male and female vocal harmonies this band blends hopeful, upbeat rock with the deep reality of folk roots.
MMLB is as "intense as whiskey with all the flavors of fine wine. Bombastic, upbeat pop/folk grabs audiences
by the hand. It's a sweet slow dance…" (OnAxis Music).
The group began carving out a niche in the Chicago music scene when members of two local bands (folk- based
Black Bottle Junction and rock-based 1/2 Mad Poet) joined as recruits to support Matt Morgan's solo project,
"Red Silhouettes", which was released in winter 2011. Both Matt and bassist, Kevin Lahvic are visual artists as
well as musicians. This connection to Chicago's Wicker Park art scene is another factor that sets the group apart
as MMLB has been garnering a devoted following by performing well-attended shows at local galleries,
including First Fridays for the Flat Iron Artist's Association.
In 2012, MMLB partnered with CAUDog Records of Chicago, IL to record their debut album "Found" with
producer Ellis Clark (who has worked with groups including The Handcuffs and Jeff Tweedy of Wilco), creating
a collection of songs that exemplify the complex nature of their live performances within the context of an
album. Their first release was a music video for the song "Elephant Man", filmed in partnership with Bailout
Pictures. The video, with its creepy bent on the state of American politics, came out just prior to the November
2012 presidential elections. Its timely release gained favorable reviews from press including Lee Klawans of the
Examiner who called it "A crafty bit of genius…"
The buzz around the video helped contribute to the band playing to a packed house for the December 2012 CD
release party at Chicago's famous Double Door, which was "…arguably the most entertaining release show I've
ever witnessed", says Lonnie Edwards of The Neorevivalist.
"Found" is a ten course banquet of sound featuring the band's seamless fusion of folk, blues, and alternative rock
that nods to predecessors like R.E.M and The Decemberists while simultaneously declaring its originality.
Alongside solid, beat driven, radio friendly songs like "Dustbowl" and "Black Water", lies a lush landscape of
acoustic instrumentation and layered arrangements. "Whose Gods Are These?" showcases the band's personality
and willingness to display their fragility, drawing listeners from all backgrounds to their music. Songs from the
album are currently being played on 140 college radio stations across the United States.
This is a group of serious musicians who met through a wide variety of means, from chance encounters to
friends who "forgot" to mention that they were wildly talented. They have all played professionally in other
musical projects and now each member brings strength to the band by adding harmonies, multi-instrumentalist
skills, and a plethora of life experiences. Eric Shelkopf of The Total Scene says MMLB is "…bringing beauty to
the Chicago music scene". Their energetic live shows are a sonic feast that satiates the hunger for honest roots
music mixed with fresh, fun, creative rock.
Matthew Morgan and the Lost Brigade make music you will be glad to find.
Coming Soon…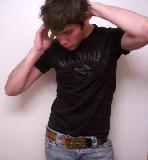 Valentine Xavier was born and raised on the south side of Chicago (the baddest part of town), which means he has a custom Continental and an Eldorado too. He is the winner of quite a few prestigious awards, an avid dancer, and a skilled screenwriter. Word on the street is that he carries a baby blue switchblade named Julius instead of a razor in his shoe. It is also quite possible that the writer of this bio has mistaken him for bad, bad Leroy Brown. Either way, his forthcoming album, Subterranean Sutra, diversely draws from such greats as the Replacements and Woody Guthrie, while still remaining poignant and appealing to today's alt folk country scene. Also, it is sure to learn a lesson 'bout messin' with the wife of jealous man.

Junction 325 performs mostly unplugged, original music with a select few, tasty cover pieces within the pop, rock, folk and Americana styles.This 5-piece band came about in February of 2011 in the northwest suburbs of Chicago, Illinois, and consists of seasoned and disciplined musicians who bring their own influences of various music genres and their own performance experiences to the table. They are looking forward to start recording their first album in winter 2011-2012.
The band consists of Cathy Narvaez (vocals and percussion), Jack D. (guitar and vocals), Sarah Wong (violin, guitar and vocals), James Neff (percussion and vocals) and Mike "Vez" Narvaez (bass and guitar).
The main focal points of this band are the intricate, interwoven layers of strong 3 to 4-part vocal harmonies, the elaborate, complex and whimsical interplay between the strings of the guitars and/or the violin, the rich, bottom, warmth and stability of the 5-string acoustic bass, with all of the above being driven by melodic percussive beats.
Although the original songs are mostly fueled by the creative ideas of Jack and Sarah, the band prides itself on including the creative inputs, musical expressiveness and talents of all of its members to complete and reach the final song "product". The Junction 325 songs are purposeful and meaningful and the bands' unique music style combined with their performance stirs the listeners' thoughts and emotions.
Their music is always well received by their audiences when performing in the different venues throughout the Chicagoland area. The band's website is currently under construction but their main contact information and next scheduled performances can be found on their Facebook page Junction 325.