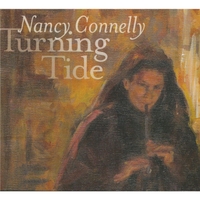 Nancy Connelly has the unique ability to tune into other people and the result are songs and ideas with a message. Songs "with a message" are the forte of this Chicago songwriter. Her music is at the service of our hearts and souls in her debut album Turning Tide.
With lilting guitar work and a gentle, breezy voice, her influences of classic American songwriters is worn securely on her sleeve. Similar to artists she admires, such as John Denver, John Prine and Joni Mitchell, her songs are not just about romantic love.
"Being patient and learning to laugh at yourself" are life lessons that helped Nancy (thankfully for the rest of us!) face and conquer the hurdle of stage fright which allowed her to perform and eventually complete a full-length album released on CAUDog Records, recorded by Engineer Bill Kavanaugh at BobDog Studios.
Honing her craft in coffeehouses in the 1990's, she performed as Poison Lily Paradise, a duo with Jamie Lynne Paradise on flute/guitar. Nancy performs on acoustic guitar, following a long-seated love of guitar that began in her teens. Carrying her development as a songwriter as her vocabulary grew, her songs retain an innocence, straightforwardness and honesty that is a welcome breath of fresh air.
By finding the everyday value of life, poetry in spirit and beauty in simple things….Connelly keeps the tradition of classic American songwriting alive. Enjoy the songs on her debut album for years to come.